7/14/2022 -
The Nicky Biehn Series was a huge success this year!!! CONGRATULATIONS TO NICK TRENCHARD for taking home the CHAMPIONSHIP - Nick SWEPT the series and
7/14/2022 -
WE RACE BOTH NIGHTS THIS WEEKEND!!! This WEEKEND at Siskiyou Golden Speedway is CHAMPIONSHIP WEEKEND!! WE ARE RACING BOTH FRIDAY AND SATURDAY NIGHTS!!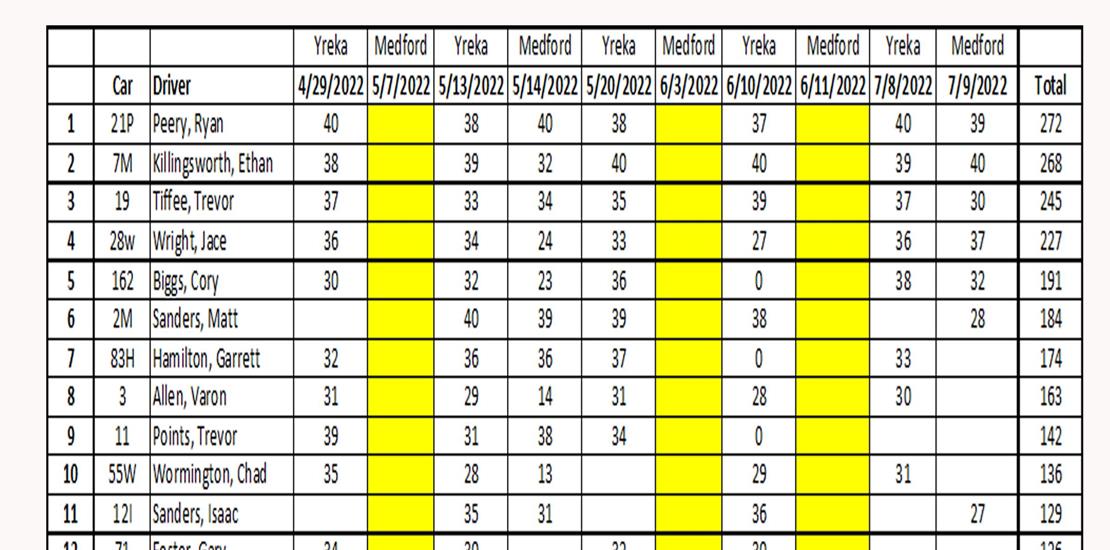 7/13/2022 -
THE JEFFERSON STATE CHALLENGE Points as of 7/13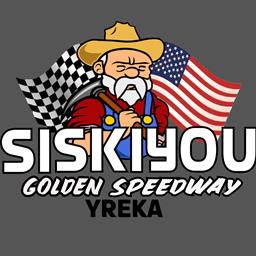 5/13/2022 - Siskiyou Golden Speedway
Yreka, CA
Mom's Night Out
All Mom's come on out to the track and get pampered!!
IMCA Northern Sportmod

15 entries

Mini Stock/FWD Compact

8 entries

FWD Sport Compact

4 entries

Jalopies

5 entries
Full Event Information on MyRacePass
IMCA Northern Sportmod
Finish
Start
#
Competitor
Hometown
+/-
1
7
2M
Matt Sanders Brookings, OR
Brookings, OR
6
2
5
7M
Ethan Killingsworth Yreka, CA
Yreka, CA
3
3
8
21P
Ryan Peery Yreka, CA
Yreka, CA
5
4
9
20B
Keith Foux Red Bluff, CA
Red Bluff, CA
5
5
1
83H
Garrett Hamilton Grenada, CA
Grenada, CA
-4
6
6
12I
Isaac Sanders Brookings, OR
Brookings, OR
-
7
3
28W
Jace Wright Gazelle, CA
Gazelle, CA
-4
8
11
19
Trevor Tiffee Yreka, CA
Yreka, CA
3
9
2
162
Cory Biggs Yreka, CA
Yreka, CA
-7
10
12
11
Trevor Points Salem, OR
Salem, OR
2
11
4
71
Gary Foster Yreka, CA
Yreka, CA
-7
12
14
3
Varon Allen Medford, OR
Medford, OR
2
13
13
55W
Chad Wormington Montague, CA
Montague, CA
-
14
10
01
Daniel Ray Springfield, OR
Springfield, OR
-4
15
15
77A
Gabriel Armstrong Yreka, CA
Yreka, CA
-
Finish
Start
#
Competitor
Hometown
+/-
1
5
2M
Matt Sanders Brookings, OR
Brookings, OR
4
2
2
28W
Jace Wright Gazelle, CA
Gazelle, CA
-
3
4
12I
Isaac Sanders Brookings, OR
Brookings, OR
1
4
6
20B
Keith Foux Red Bluff, CA
Red Bluff, CA
2
5
3
7M
Ethan Killingsworth Yreka, CA
Yreka, CA
-2
6
1
19
Trevor Tiffee Yreka, CA
Yreka, CA
-5
7
7
3
Varon Allen Medford, OR
Medford, OR
-
8
8
77A
Gabriel Armstrong Yreka, CA
Yreka, CA
-
All transfer
Finish
Start
#
Competitor
Hometown
+/-
1
1
83H
Garrett Hamilton Grenada, CA
Grenada, CA
-
2
3
71
Gary Foster Yreka, CA
Yreka, CA
1
3
2
162
Cory Biggs Yreka, CA
Yreka, CA
-1
4
6
21P
Ryan Peery Yreka, CA
Yreka, CA
2
5
7
01
Daniel Ray Springfield, OR
Springfield, OR
2
6
5
11
Trevor Points Salem, OR
Salem, OR
-1
7
4
55W
Chad Wormington Montague, CA
Montague, CA
-3
All transfer
Finish
Start
#
Competitor
Hometown
Time
1
15
3
Varon Allen Medford, OR
Medford, OR
2
8
77A
Gabriel Armstrong Yreka, CA
Yreka, CA
3
12
162
Cory Biggs Yreka, CA
Yreka, CA
4
2
71
Gary Foster Yreka, CA
Yreka, CA
5
10
20B
Keith Foux Red Bluff, CA
Red Bluff, CA
6
14
83H
Garrett Hamilton Grenada, CA
Grenada, CA
7
5
7M
Ethan Killingsworth Yreka, CA
Yreka, CA
8
7
21P
Ryan Peery Yreka, CA
Yreka, CA
9
4
11
Trevor Points Salem, OR
Salem, OR
10
1
01
Daniel Ray Springfield, OR
Springfield, OR
11
9
12I
Isaac Sanders Brookings, OR
Brookings, OR
12
13
2M
Matt Sanders Brookings, OR
Brookings, OR
13
3
19
Trevor Tiffee Yreka, CA
Yreka, CA
14
11
55W
Chad Wormington Montague, CA
Montague, CA
15
6
28W
Jace Wright Gazelle, CA
Gazelle, CA
Mini Stock/FWD Compact
Finish
Start
#
Competitor
Hometown
+/-
1
1
1J
Michael Knuckles Yreka, CA
Yreka, CA
-
2
2
2D
Darek Alford Etna, CA
Etna, CA
-
3
6
16
Quintyn Ericks Klamath Falls, OR
Klamath Falls, OR
3
4
3
33M
Hunter Magnan klamath, OR
klamath, OR
-1
5
5
11
Marilyn Yawnick Yreka, CA
Yreka, CA
-
6
4
51
Connor Franklin Montague, CA
Montague, CA
-2
DNS
7
24
Logan McKnight Montague, CA
Montague, CA
-
DNS
8
95
Kayden Smith Yreka, CA
Yreka, CA
-
Finish
Start
#
Competitor
Hometown
+/-
1
7
1J
Michael Knuckles Yreka, CA
Yreka, CA
6
2
2
2D
Darek Alford Etna, CA
Etna, CA
-
3
3
51
Connor Franklin Montague, CA
Montague, CA
-
4
8
33M
Hunter Magnan klamath, OR
klamath, OR
4
5
4
11
Marilyn Yawnick Yreka, CA
Yreka, CA
-1
6
1
95
Kayden Smith Yreka, CA
Yreka, CA
-5
7
6
16
Quintyn Ericks Klamath Falls, OR
Klamath Falls, OR
-1
DNS
5
24
Logan McKnight Montague, CA
Montague, CA
-
All transfer
Finish
Start
#
Competitor
Hometown
Time
1
2
2D
Darek Alford Etna, CA
Etna, CA
2
6
16
Quintyn Ericks Klamath Falls, OR
Klamath Falls, OR
3
3
51
Connor Franklin Montague, CA
Montague, CA
4
7
1J
Michael Knuckles Yreka, CA
Yreka, CA
5
8
33M
Hunter Magnan klamath, OR
klamath, OR
6
5
24
Logan McKnight Montague, CA
Montague, CA
7
1
95
Kayden Smith Yreka, CA
Yreka, CA
8
4
11
Marilyn Yawnick Yreka, CA
Yreka, CA
Jalopies
Finish
Start
#
Competitor
Hometown
+/-
1
2
2
JJ Smith Big Springs, CA
Big Springs, CA
1
2
1
4
Michael Colson Yreka, CA
Yreka, CA
-1
3
5
3
Karl Bernstein Yreka, CA
Yreka, CA
2
4
3
5
Marilyn Yawnick Yreka, CA
Yreka, CA
-1
5
4
1XX
James Koher Montague, CA
Montague, CA
-1
Finish
Start
#
Competitor
Hometown
+/-
1
1
4
Michael Colson Yreka, CA
Yreka, CA
-
2
3
2
JJ Smith Big Springs, CA
Big Springs, CA
1
3
4
5
Marilyn Yawnick Yreka, CA
Yreka, CA
1
4
2
1XX
James Koher Montague, CA
Montague, CA
-2
5
5
3
Karl Bernstein Yreka, CA
Yreka, CA
-
All transfer
Finish
Start
#
Competitor
Hometown
Time
1
5
3
Karl Bernstein Yreka, CA
Yreka, CA
2
1
4
Michael Colson Yreka, CA
Yreka, CA
3
2
1XX
James Koher Montague, CA
Montague, CA
4
3
2
JJ Smith Big Springs, CA
Big Springs, CA
5
4
5
Marilyn Yawnick Yreka, CA
Yreka, CA